Our organization has a wonderful and rich history serving our community. On this page is a list of the major composers and their works that we have performed over the years.
Below the list of composers, you can also browse our collection of
posters
that have advertised our past performances, including conductors and soloists. Enjoy!
Works Performed
Below is a listing of the major works we have performed, organized by composer. Also listed are the years in which we performed them. Use the link on the composer's name to gain more information about them.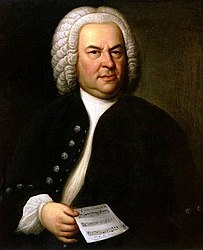 Johann Sebastian Bach
Cantata No. 80, Ein Feste Burg ist Unser Gott - 2003, 2011
Cantata No. 140, Sleepers Wake - 1995, 1999
Jesus, Joy of Man's Desiring - 2010
Magnificat - 1995
Mass in b minor - 1988, 1997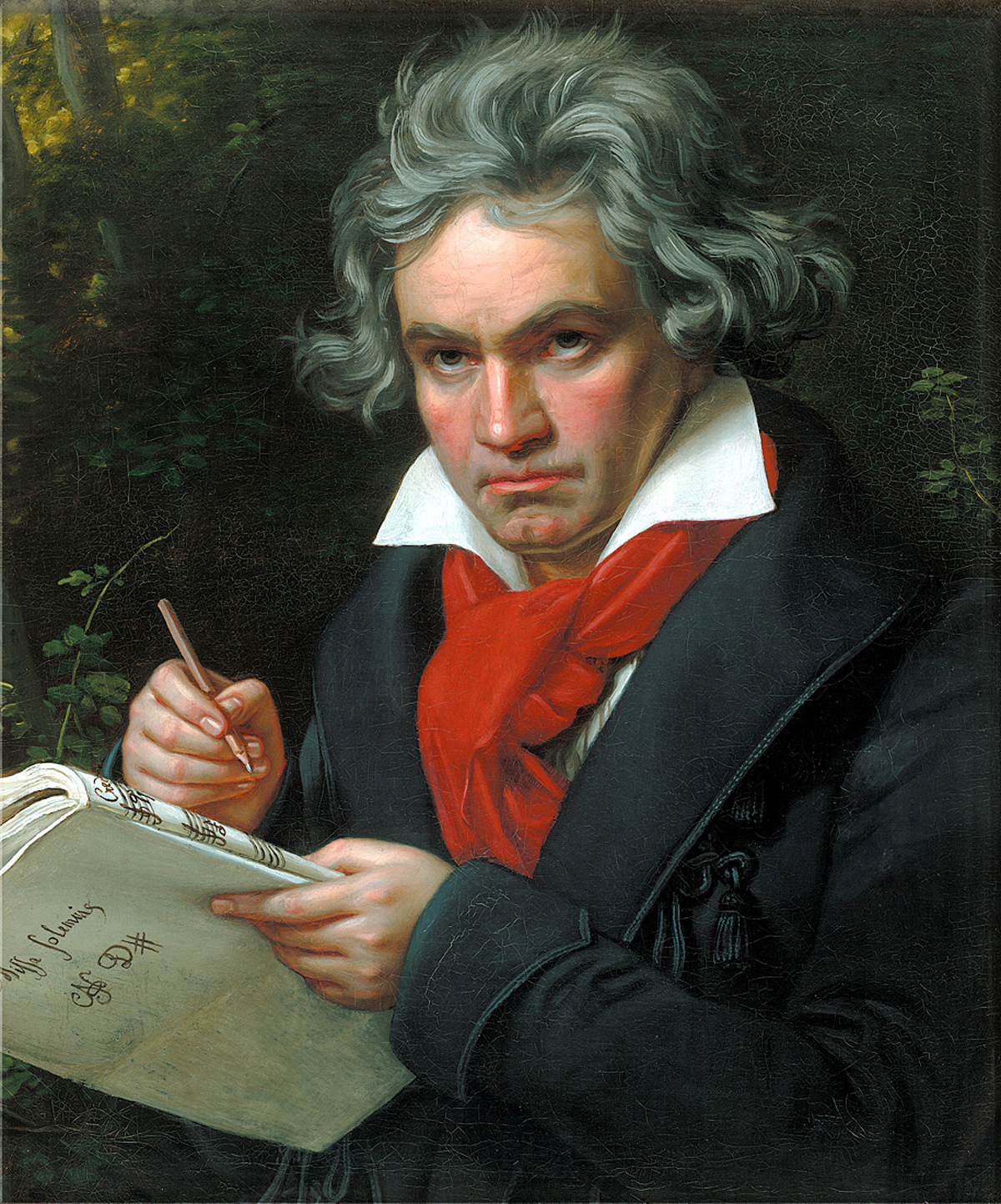 Ludwig van Beethoven
Polovetzian Dances - 2007
A German Requiem - 1990, 1996, 2004, 2012, 2023 (in German)
Nänie - 1989, 1998, 2005, 2013
Ave Maria, Die Mainacht, Leibeslieder Walzer, Von Ewiger Liebe, Gesang der Parzen, Triumphlied - 2018
Arise O God and Shine - 2012
To Saint Cecilia - 1986, 2001
Requiem - 1995, 1999, 2005
Coronation Ode, Op. 44 - 2019
Requiem 1994, 2022 - (Performed in France with Le Groupe Vocal du Captalat and L'Orchestre d'Harmonie de La Teste de Buch.)
Cantique - 2010, 2022
O Magnum Mysterium - 1989, 1999, 2011
Coronation Anthem #1, (Zadock the Priest) - 1989, 2007
Coronation Anthem #2, (The King Shall Rejoice) – 2007
Messiah - 1983 to Present
Song of Democracy - 1989, 2005
Requiem - 2013
The Peacemakers - 2016
Elijah - 1987, 1994, 2000, 2006, 2017
Regina Coeli - 2008
Requiem in d minor - 1991, 2011
Boris Godunov / Coronation Scene - 1991, 2007
I Was Glad – 2007
Jerusalem - 2007, 2019
Entrance of the Guests – 2010
A Child of Our Time - 2019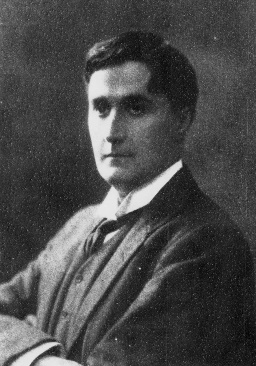 Ralph Vaughan Williams
A Sea Symphony - 1993, 2008
Dona Nobis Pacem - 2010, 2016
Five Mystical Songs - 2005, 2014
Serenade to Music - 1989, 2012
Song of Thanksgiving - 2010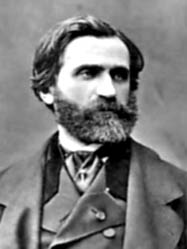 Giuseppe Verdi
---
A Concert of Healing
Sat, Jun 10 2023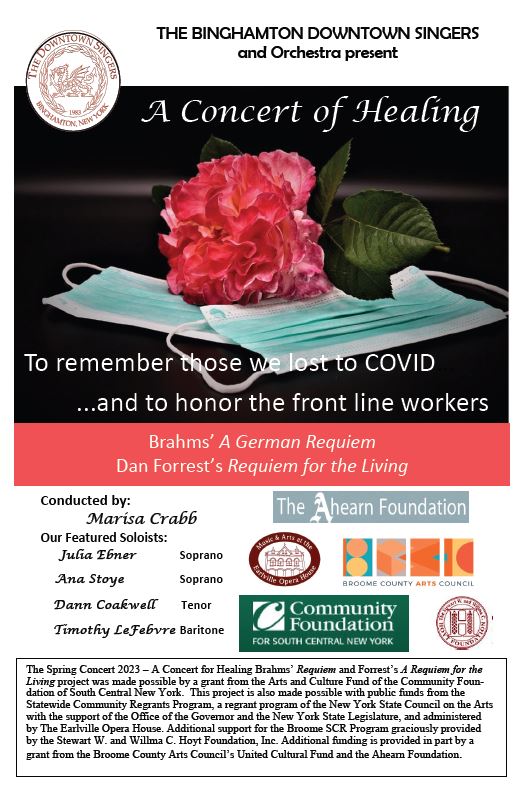 ---
40th Year Anniversary Messiah
Sat, Dec 17 2022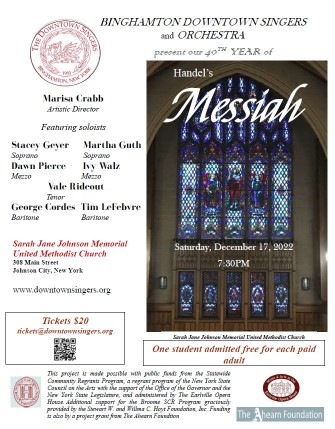 ---
Remember and Rejoice
Sat, Jun 4 2022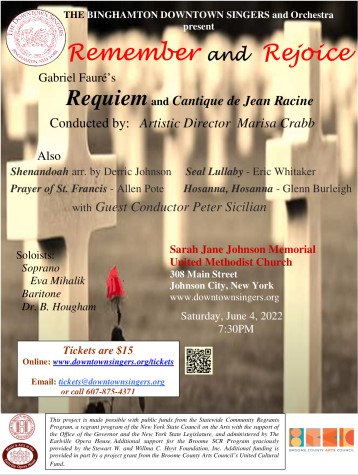 ---
2021 Messiah Concert
Sat, Dec 18 2021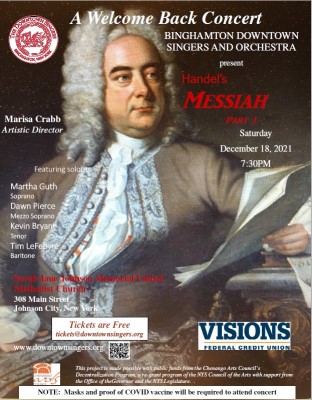 ---
2019 Messiah Concert
Sat, Dec 21 2019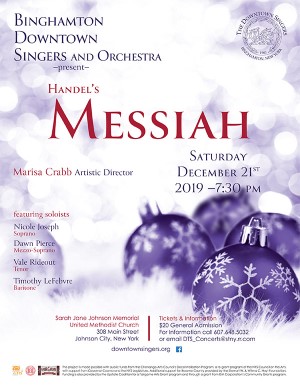 ---
A Concert of Hope and Peace
Sat, Jun 1 2019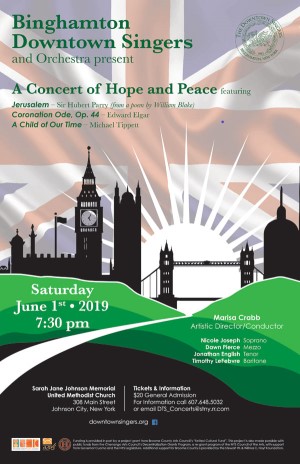 ---
2018 Messiah Concert
Sat, Dec 15 2018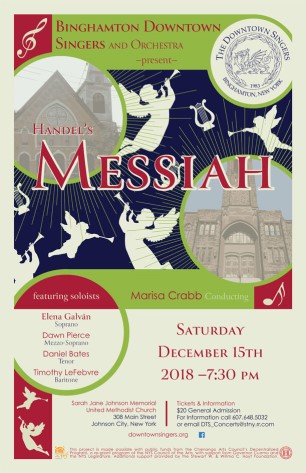 ---
An Evening of Brahms
Sat, Jun 9 2018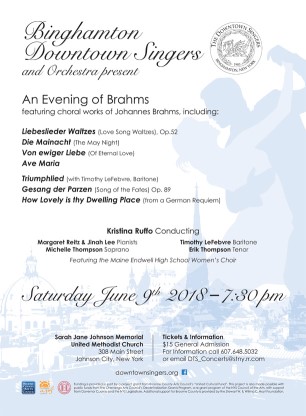 ---
2017 Messiah Concert
Sat, Dec 16 2017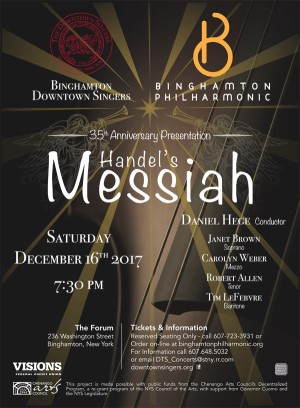 ---
Elijah
Sat, Jun 10 2017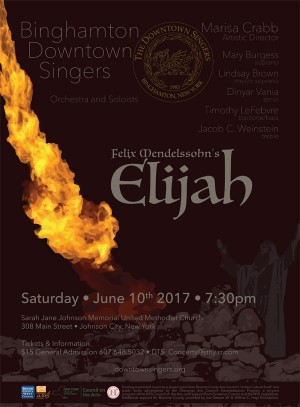 ---
2016 Messiah Concert
Sat, Dec 17 2016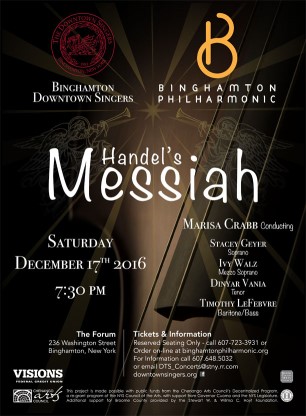 ---
The Peacemakers
Sat, Jun 4 2016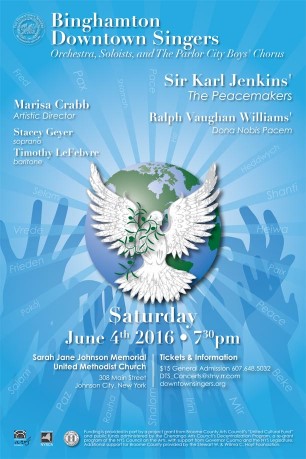 ---
2015 Messiah Concert
Sat, Dec 19 2015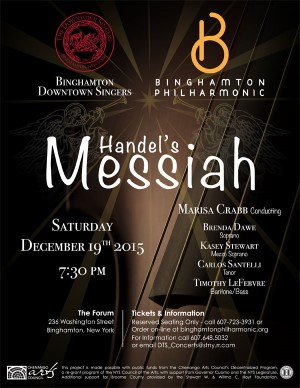 ---
Dvorak Requiem
Sat, May 30 2015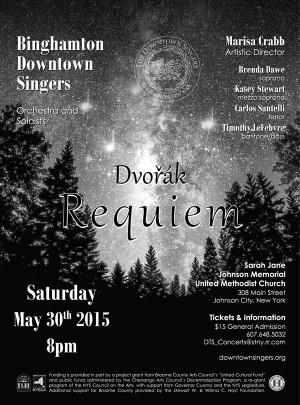 ---
2014 Messiah Concert
Sat, Dec 20 2014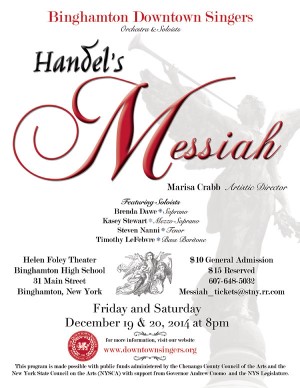 ---
2014 Spring Concert
Sat, May 31 2014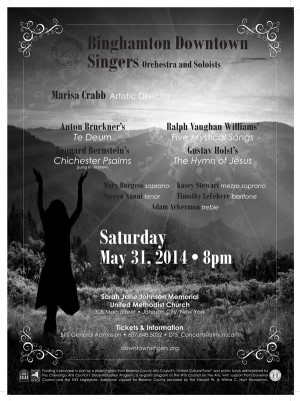 ---
2013 Messiah Concert
Sat, Dec 21 2013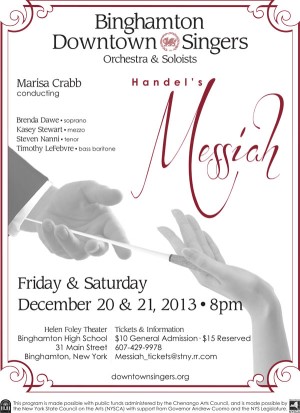 ---
Jenkins Requiem
Sat, Jun 1 2013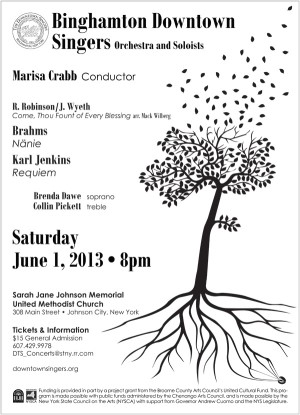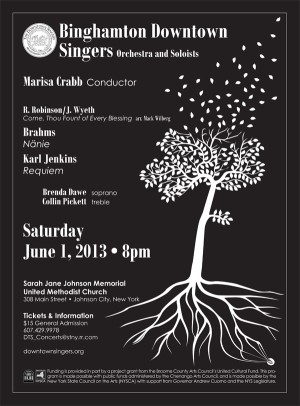 ---
30th Anniversary Messiah Concert
Sat, Dec 22 2012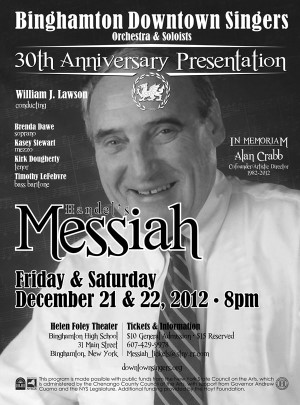 ---
2012 Spring Concert
Sat, Jun 2 2012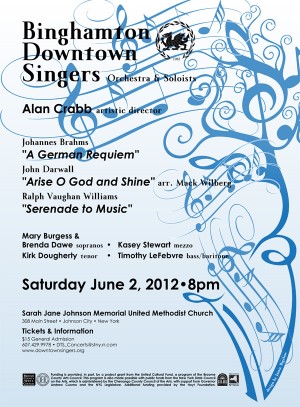 ---
2011 Messiah Concert
Sat, Dec 17 2011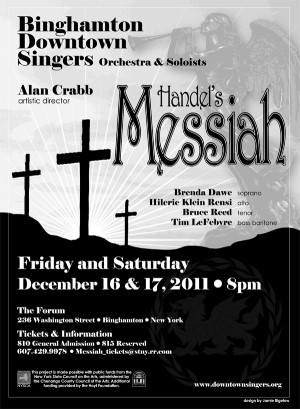 ---
2011 Spring Concert
Sat, Jun 4 2011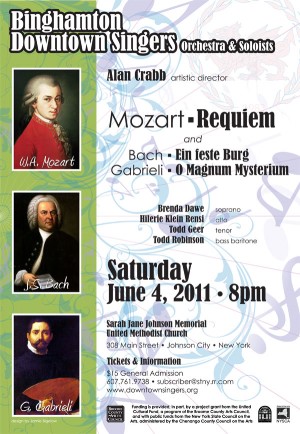 ---
2010 Messiah Concert
Sat, Dec 18 2010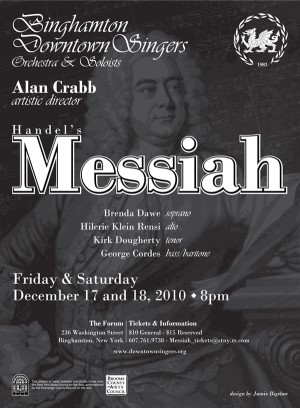 ---
2010 Spring Concert
Sat, Jun 5 2010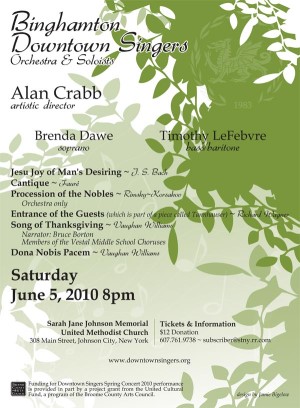 ---
2009 Messiah Concert
Sat, Dec 19 2009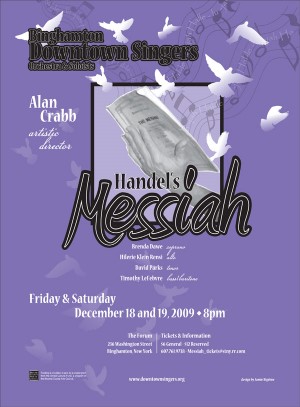 ---
Verdi Requiem
Sat, Jun 6 2009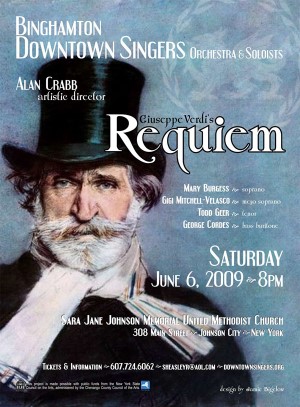 ---
2008 Messiah Concert
Sat, Dec 20 2008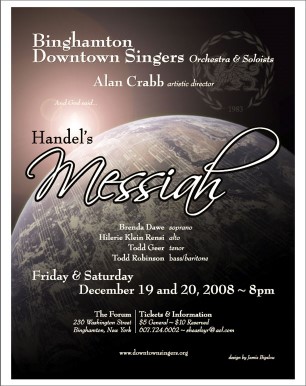 ---
Sea Symphony
Sat, Jun 7 2008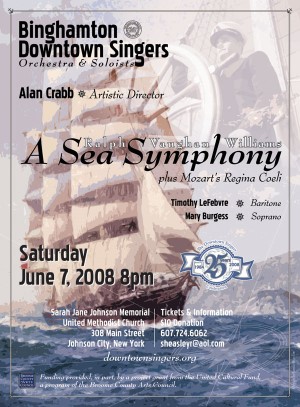 ---
2007 Messiah Concert
Sat, Dec 22 2007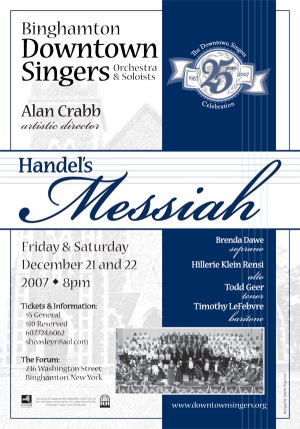 ---
Music For Special Occasions
Sat, Jun 2 2007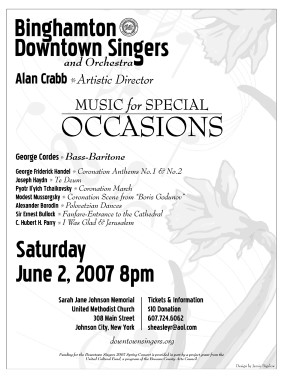 ---
2006 Messiah Concert
Sat, Dec 23 2006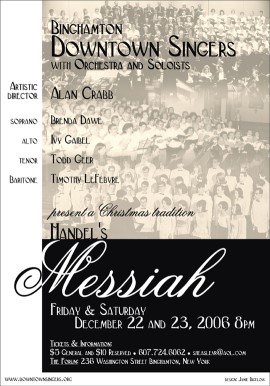 ---
Elijah
Sat, Jun 3 2006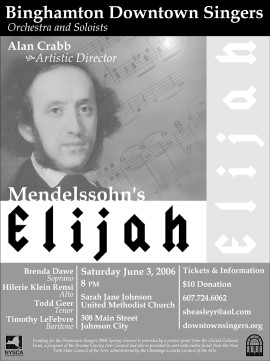 ---
2005 Messiah Concert
Sat, Dec 17 2005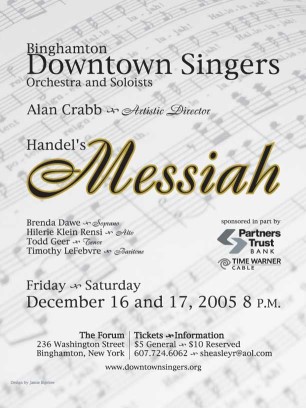 ---
Durufle Requiem
Sat, Jun 4 2005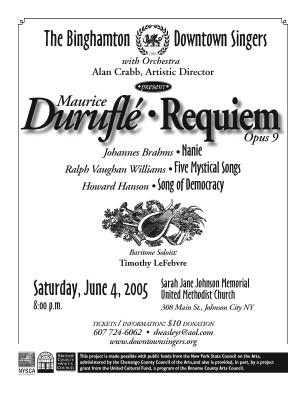 ---
2004 Messiah Concert
Sat, Dec 18 2004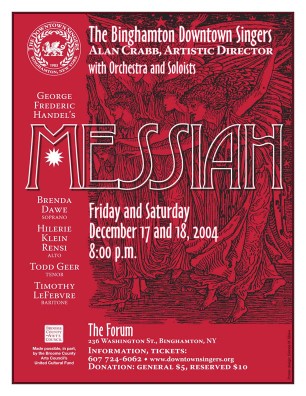 ---
Brahms Requiem
Sat, Jun 5 2004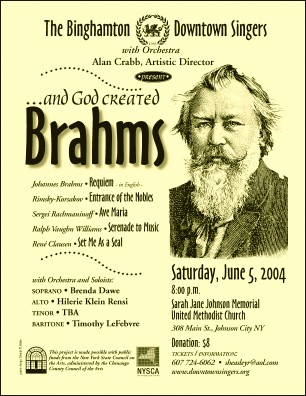 ---
20th Anniversary Messiah Concert
Sat, Dec 21 2002
---
Mozart Requiem
Sat, May 18 2002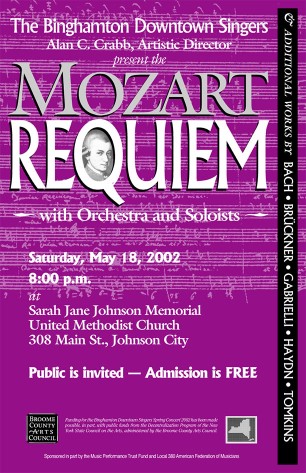 ---
15th Anniversary Messiah Concert
Sat, Dec 20 1997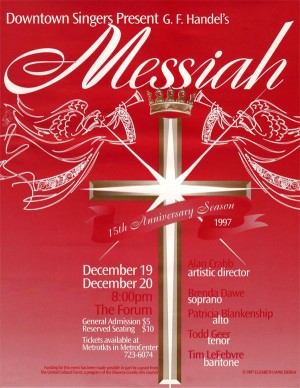 ---
1996 Messiah Concert
Sat, Dec 21 1996